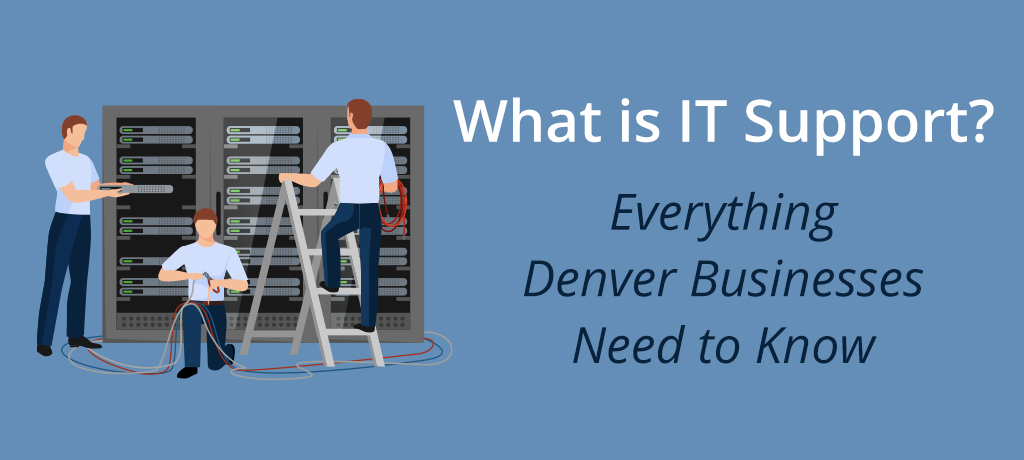 Find out what IT Support is and how it can benefit your business in Denver. In addition to that, learn how to choose the right IT Support provider for your business.
As a thriving hub of entrepreneurial activity, Denver has a lot in store for SMB leaders. The city's Small Business Development Center (SBDC) provides aspiring business people with educational programs and free consultations. Founders in Denver can also tap into a multitude of funding options, including investor groups like the Denver Angels.
It is no wonder that the "Mile-High City" is ranked fourth on Inc's list of the ten best places to start a business in 2020.
That said, you may find it difficult to run a business in Denver without the proper tech resources in your arsenal. More importantly, you will need expert IT support to operate your tech at full throttle. A reliable IT infrastructure can maximize your business's potential, enabling you to go head to head with the big names in your industry.
But if you're wondering, "What exactly is IT support?" let's dive right into it.
IT Support 101: An Introduction
IT Support refers to the help you receive in maintaining your tech components. A tech support team responds to your distress calls about crashed software and glitching computers. Their main responsibility is to fix IT problems and get your systems back on track as quickly as possible.
Besides diagnosing system issues, tech support professionals install and configure hardware/software, update/replace components as required, and evaluate new technology for your business, among other things.
However, it's nearly impossible to invest in full-fledged in-house IT support when you're working with limited capital. As the annual salary of a tech support specialist in Denver is $51,254 (excluding healthcare and bonuses), you may not be able to accommodate more than one technician on your payroll.
And, given the labor-intensive nature of IT maintenance, a single system engineer will not be able to manage all facets of your enterprise's IT.
Fortunately, outsourced IT support provides an easy solution to this problem.
Everything You Need to Know About IT Support
As mentioned, the cost of hiring in-house Denver IT support is quite high. This is why small businesses on tight budgets often turn to third-party IT Support providers. In this business model, you hand over your IT management to the IT support provider and pay a monthly/yearly fee for their services.
There are several benefits to outsourcing IT support, a few of which include:
1. Expense Reductions
Even if your IT needs are relatively minimalistic, you are likely to benefit from outsourced Denver IT support. Here, you only pay for the packages/services that fulfill your operational demands, instead of spending unnecessarily on full-time salaried employees.
2. Easy Access to Industry Expertise and the Latest Tech
It's burdensome to research the latest technology tools while trying to expand a business. However, a reputable IT provider will do the hard work for you by integrating advanced tech into your organization.
Plus, companies offering Denver IT support will ensure that the new infrastructure aligns with your specific business needs.
Reputable IT support companies also have partnerships with distinguished IT providers, which gives them a comprehensive understanding of the latest products in the market. Using this insight, they can advise you on replacing legacy systems with upgraded versions. 
Furthermore, joining forces with an IT support company is like hiring an entire team of highly qualified technicians for a flat fee. With different IT experts resolving system issues and recommending solutions, your business is sure to thrive.  
3. Razor-Sharp Eye on Network Security
Small business owners dealing with multiple responsibilities often undervalue their cybersecurity needs.
A recent study commissioned by BullGuard revealed that one-third of small business owners (with 50 or fewer employees) use free cybersecurity solutions. On the other hand, one in five companies does not have any form of cybersecurity defense strategy.
It's easy to see why this is the case. According to the same report, nearly 60% of SMB owners think their business is an unlikely target for cybercriminals.
Most SMB network security breaches are expensive, costing nearly $5,120 on average. These expenses, although necessary for damage control, can set your business back significantly.
The good news is that an expert provider of Denver IT support can protect you against vicious cybersecurity incidents. When it comes to network security, managed IT providers offer the following:
24/7 Network Monitoring
Backup and Disaster Recovery
Remote Access Security
Routine Maintenance

Firewall Configuration

Web Filtering
Security Compliance
Enterprise-grade Antivirus/Antimalware Protection
Threat Detection and Prevention
4. More Technicians On-Demand
In the event of a widescale network failure, your internal team will be occupied with the most urgent crises. This can cost other employees with impacted systems a significant amount of uptime.
In contrast, a Denver IT support provider will assign several technicians to each problem, ensuring that they are addressed simultaneously. This approach minimizes overall downtime and allows you to resume operations quickly.
5. Enhanced Remote Connectivity
Post-2020, remote work has found favor with several SMBs. A 2020 survey from Intermedia suggested that 57% of SMB owners are likely to adopt remote working options for the long haul.  
If you're thinking of transitioning to a remote workforce, an outsourced  IT support provider can help. An IT Company Denver will set up and configure Virtual Private Networks (VPNs) to establish secure connections between remote devices and your central network. Additionally, they will take active steps to ensure that all data is encrypted and shared via protected media.
IT support companies can also implement remote communication and videoconferencing platforms to maintain effective communication between all employees.
When Should You think About Outsourcing Your IT?
As such, there are no rules for IT outsourcing. You can team up with an outsourced IT enterprise to handle your tech operations any time you deem appropriate.
However, it's probably in your best interest to outsource to a Denver IT support if you don't have:
1. A Well-Rounded Backup and Disaster Recovery Plan
Unless you're vigilant about data backup, you risk losing everything in a system disaster. An IT services team will deal with all your data and secure it appropriately.
2. Enough Time to Fix a Tech Glitch Yourself
You're a business owner first. You probably have a million other things to take care of. Why not transfer your tech management duties to a team of experts? An IT support team will take care of your tech while you focus on your deliverables.
3. A Background in Technology
As someone unfamiliar with complex technology, you may find it difficult to spot system issues or keep track of the latest updates. An outsourced IT support provider can handle this for you.
4. A Large Enough Server or Storage Facility
An IT support company will be able to streamline your data storage protocols, ensuring you have enough space for your growing business data. It's a much better alternative to consumer-grade cloud storage solutions that offer limited storage space.
5. Experience with Network Failures
If you don't know how to react to a server error or cybersecurity incident, it can bring you to your knees in a heartbeat. An outsourced IT support company will have a wealth of experience in tackling disasters of varying proportions. All you need to do is sit back and let them fix things for you.
The Wrap
By now, you must have understood how a competent managed IT provider can unlock the full potential of your tech infrastructure. Reputable IT support companies can help you leverage solid IT consultations/services without sending your expenses through the roof. Simply put, they bring you quality IT management at a reasonable price.
Are you thinking of teaming up with a Denver IT support company? Get in touch with us to learn how your business will benefit from our services.