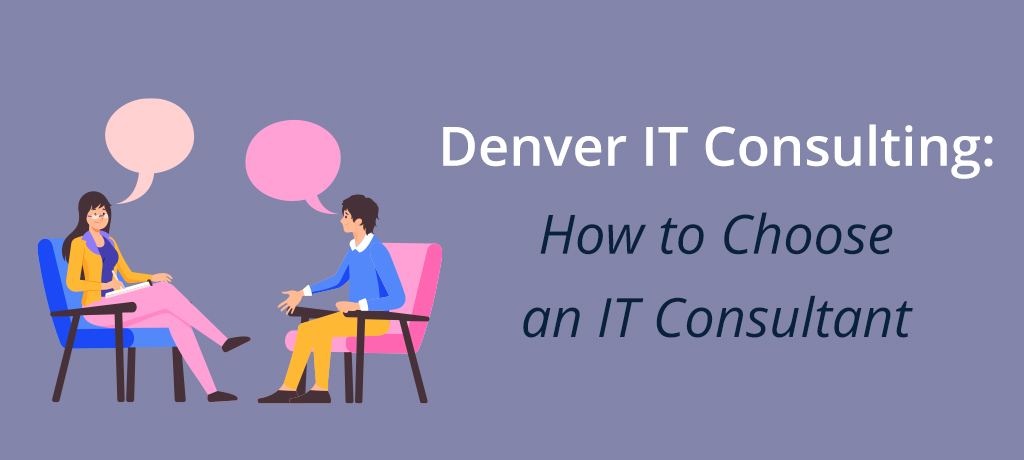 No matter the size of your business, information technology (IT) plays a critical role in its success. Well-managed IT systems can mean the difference between surpassing the competition or falling behind.
However, technology is always changing, and IT systems are complex. Many small to mid-sized business owners simply don't have the time or resources to manage their IT all on their own. They need a little guidance and support to get the job done right.
That's where IT consulting services come in.
An IT consulting service from an outsourced IT support company gives businesses access to experts who help them continuously improve their technology. Trained IT consultants to streamline operations by offering better IT solutions and valuable advice.
There are plenty of businesses in Denver, Colorado, that could benefit from IT consulting services. Denver has a highly competitive business environment, and IT consultants can be the edge that local businesses need to rise above the competition.
Do you need help navigating and improving your IT infrastructure? Here is everything you need to know about IT consulting services in Denver.
What is an IT Consultant?
Before diving into how a Denver IT consulting service can benefit your business, let's first discuss what an IT consultant does.
An IT consultant is a well-educated IT professional who does exactly as the name suggests: they consult and advise on all things related to IT in a business setting.
IT consultants are trained to spot weaknesses within an IT infrastructure and recommend solutions tailored to meet unique needs. However, they are more than just technology advisors. IT consultants also provide IT training, help automate processes, update cybersecurity software and hardware, and troubleshoot issues.
A Denver IT consulting service will connect your business with dedicated IT consultants. These consultants will work with you and your team directly to improve your IT systems' stability, operations, and performance.
Ultimately, third-party IT consultants aim to improve your business technology in ways that boost internal workflows, support long-term success, and foster growth. Every business needs help from time to time, and an IT consulting service ensures you always have the expert support you need.
How Can an IT Consulting Service Benefit Your Business? 
Let's look at a few ways a great Denver IT consulting service may benefit your business. A valuable IT consultant will:
1. Suggest Better IT Solutions Based on Your Needs
Working with quality Denver IT consultant(s) will allow you to fully reap the rewards of personalized technology solutions. IT consultants understand the ins and outs of IT systems, so if they identify a problem within your current technology, they can provide a solution that's customized and highly effective.
They may recommend replacing security software, adding new systems and equipment, automating workflows, or taking other necessary steps to reach your IT goals.
A trustworthy IT consulting service will never try to upsell you on products you do not need. Instead, they will focus on your specific needs and offer custom IT solutions that move your business forward.
2. Be Available When You Need Them
If something goes wrong with your IT systems, you will need to resolve it quickly. Otherwise, your business could face severe consequences and financial loss. In fact, downtime accounted for roughly $1.63 million in lost revenue for small U.S. businesses last year alone.
A worthwhile IT consultant will help you avoid these losses by offering around-the-clock availability for IT issues. It doesn't matter when the problem occurs – they will guide and support you to resolve it as quickly and efficiently as possible. This minimizes operational downtime and the severe financial repercussions that come with it.
3. Improve Your IT Security
Another benefit of Denver IT consulting services is that they help keep your IT infrastructure protected from external threats.
The importance of well-managed IT security cannot be understated. Cyberattacks can have a lasting and devastating effect on small to mid-sized businesses. Just one online attack can cost you thousands of dollars in reparations and permanently damage your business's reputation.
IT consultants will minimize the risk of your business falling victim to cyberattacks by recommending and implementing advanced, multi-level security solutions. These defenses block unauthorized users and other outside threats before they can reach your network.
Keep in mind that IT threats differ from place to place. Therefore, one of the benefits of hiring Denver IT consultant(s) is that they understand the common cyber threats in the area and recommend IT solutions that defend against them.
4. Help Store Data Effectively
As you probably know, it's incredibly important to keep your business data and private consumer information secure.
However, many business owners fail to realize that one storage location is not enough. In fact, a single storage location can put your business at risk of losing your data entirely if hit with a natural disaster or cyberattack.
Quality IT consultants will help you navigate better data storage options so you can regain access to your information if something happens unexpectedly. Oftentimes, they will recommend secure, Cloud-based storage solutions that automatically back up your data and synchronize it to multiple locations.
5. Offer Necessary IT Training
Lastly, an outsourced consulting service can help you provide crucial IT training to your employees. This is an essential service because about 88 percent of cyberbreaches stem from human error – mistakes that IT consultants can help your company avoid.
They will train your employees on best practices when it comes to staying safe online. This includes looking out for phishing emails that can lead to IT attacks, spotting malicious websites, and more.
In addition to security training, a worthwhile Denver IT consultant will also show your team how to get the most out of new processes and IT tools. This helps to optimize internal operations.
Features to Look for in a Denver IT Consulting Firm
The right IT consultant can offer a variety of benefits to your business, but not every outsourced IT consulting service is created equally. How can you find the best one for your business?
Here are a few admirable qualities to look for in a Denver IT consulting service.
Effective Communication & Advisory Skills
Your IT consultant(s) should possess excellent communication skills. They need to be able to communicate IT concepts and problems in a way that's easy to understand so you can make informed decisions.
To get a feel for how an IT consultant communicates, ask them questions about how they will improve your technology. Do they speak in IT jargon that's hard to understand? Or do they take the time to explain issues in an easy-to-grasp but intelligent way?
If they have trouble explaining themselves or if you don't understand what they're saying, then you might want to move on to a different Denver IT consulting service.
Technology Expertise & Industry Knowledge
Every credible Denver IT consulting firm will have some level of technical expertise, but they might not have the IT knowledge required to properly advise your business.
The technology differs from business to business. As a result, an IT consultant who does not understand your industry needs will not be able to offer the solutions your business deserves.
A great IT consulting firm will be well-versed in the latest IT trends of your industry, such as compliance mandates, security threats, and IT trends. They when then use this understanding to advise your business and help you stay competitive in your industry.
A Proven Track Record
Lastly, it's a good idea to check the reviews and testimonials of IT consulting services prior to hiring them. What others say can often paint a clearer picture of how they operate.
Denver IT consultants with strong advisory skills and services keep their clients happy – and that will be reflected in their reviews. If you can't find any reviews of their consulting services online, request some from the team directly.
In Conclusion
Hopefully, this post gave you a better understanding of what IT consultants do, how they can benefit your business, and how to find the right service for your Denver business.
We cannot express how important it is for local businesses to have expert help when it comes to their technology. The right IT consulting service can help your business reach its goals, stay competitive, and achieve growth.
What's the value of IT consulting, and what should you consider when looking for the right consultant? Let's find out together.