Managed Back-up Service in Denver, CO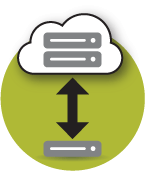 EnstoreIT™ by Envision IT Partners is an affordable, managed, local and offsite data backup and disaster recovery solution.   This solution provides both the ability to quickly restore files from the local appliance and the protection that comes with secure offsite storage at multiple locations.
EnstoreIT is a completely automated, cloud-integrated solution for protecting physical and virtual environments.
Our EnstoreIT service includes:
Onsite Appliance + Software
Replication to 2 Remote Facilities
Compression
Flexible and Highly Configurable Data Retention Policies
Backups Monitored for Integrity
Virtual machine Integration
Continuous Data Protection
Monitoring + Management