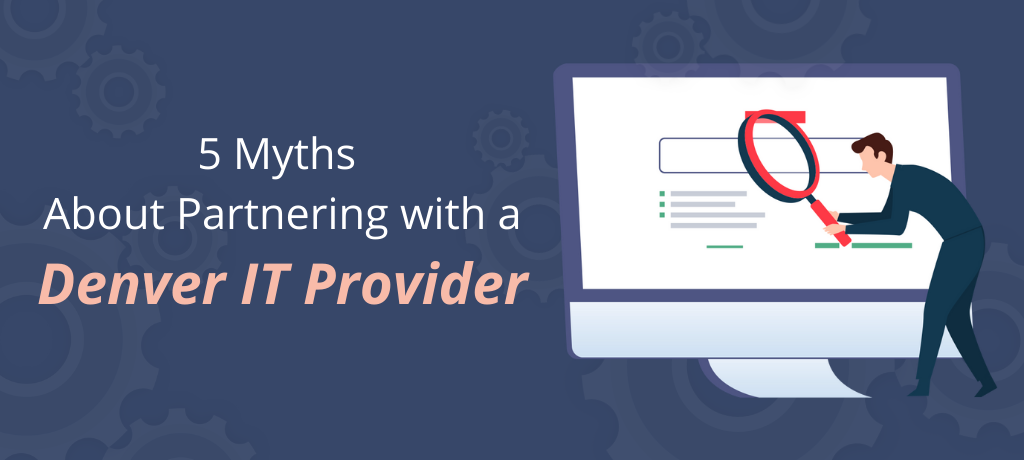 In today's modern world, information technology (IT) is a vital component of any business's success. A well-managed IT infrastructure can streamline operations and enhance productivity, just to name a few benefits.
However, IT requires in-depth knowledge and constant upkeep to maintain, protect, and optimize. Many small to mid-sized business owners in Denver don't have the time or resources to manage their IT internally. Yet, Denver is the most populous city in Colorado, and it has seen rapid business growth over the past few years.
To keep up, Denver business owners need effective technology solutions that give them a competitive advantage. That's where a Denver IT provider can help.
An IT support provider connects businesses to a team of remote IT professionals who handle all requested IT needs on their behalf. A great provider will improve overall operations by implementing better IT solutions.
Although there are many benefits of partnering with a Denver IT provider, misconceptions and myths can make business owners hesitant to take the leap. We want to reveal what's true and what's not when it comes to outsourcing your IT services.
Read on to learn the truth behind five of the most common myths about IT providers and how your company can benefit from a partnership.
Myth #1 – Denver IT Providers Are Not for Small to Mid-Sized Businesses
This is simply not true. You don't have to own a large company to benefit from working with a Denver IT provider. In fact, many local IT providers center their services around small to mid-sized businesses (SMBs) only.
A Denver IT provider that serves SMB will bring unparalleled expertise and knowledge to the table. They will help your business run more smoothly by taking care of the daily distractions that come with technology management. A Denver IT provider may also handle specialized projects under your direction. This not only frees up your time, but also gives you peace of mind knowing that your critical IT systems are in good hands.
Small businesses, often more than large corporations, don't have the in-house capabilities to handle their own IT. Don't assume that your size dictates whether or not you should look for outsourced IT services
Myth #2 – IT Providers Are Expensive
Partnering with an IT provider does not mean you have to break the bank.
A quality Denver IT provider will work with your company to develop a custom IT plan that fits your unique business needs and budget. Some providers will even take payments on an as-needed basis, so you only pay for the IT services your company uses. This might actually save your business some money in the long run.
Outsourced IT providers tend to be more cost-effective than internal IT support. They'll eliminate the need to pay full-time salaries and benefits and be available outside of regular business hours to resolve your IT concerns.
Myth #3 – Outsourced IT Security is Not Reliable
This is just blatantly untrue.
Many business owners worry that an IT provider cannot offer the same level of IT security that an in-house team can provide – and they're right. Most third-party IT teams offer better, more reliable security services.
A great IT provider can improve your IT security by implementing advanced, multi-level solutions that protect your systems from threats, downtime, and privacy breaches.
They will also run frequent penetration tests, enact software updates, and monitor your network around the clock to keep your business protected from ever-evolving IT threats. Keeping your IT security up-to-date is incredibly important, especially when you consider that over 2,200 cyberattacks are launched each day.
Myth #4 – IT Providers Offer the Same Solutions for All Clients
Wrong again. Most IT providers tailor their solutions to fit the individual needs of each client. You won't have to settle for cookie-cutter solutions that don't really suit your situation.
They start by analyzing your company's current IT strategy, systems, and compliance standards. After assessing your infrastructure, your IT provider will work with you to build customized solutions to areas that need improvement. Solutions may include anything from new IT equipment to new software or cloud services.
A worthwhile Denver IT provider will never try to upsell you on unnecessary solutions. Instead, they'll only offer solutions that help you improve productivity and benefit your company long-term.
Myth # 5 – All IT Providers Are Equally Valuable
Unfortunately, not all IT providers are created equally, nor do they offer the same level of service. Some Denver IT providers will be better equipped to serve your business than others.
For instance, an IT provider with experience and certifications in your industry will understand and anticipate your company's needs more effectively than one that doesn't. Your provider should also be well-versed in the latest industry trends, regulations, and security standards – or you may not receive effective solutions.
That's why it's essential to do your research before partnering with a local provider.
A good place to begin is by looking at their client reviews and testimonials. This will give you a better idea of their quality of work and, more importantly, what kind of relationship they have with their clients. Pay close attention to what past customers have to say.
It's also valuable to consult a Denver  IT provider before you sign a contract to ask about their services, prices, and how they can help your business. An honest, credible Denver IT provider will be more than happy to discuss their services with you.
In Conclusion
As you can see, there are many myths surrounding the idea of partnering with a Denver IT provider – and we can easily dispel most if not all of them.
If you put your trust in a great provider, they can help solve all your current IT concerns and anticipate the ones that may arise in the future. Most importantly, they will help foster growth opportunities and success by ensuring your IT systems operate at their fullest potential.
How can partnering with a Denver IT provider specifically benefit your business? Let's find out together.