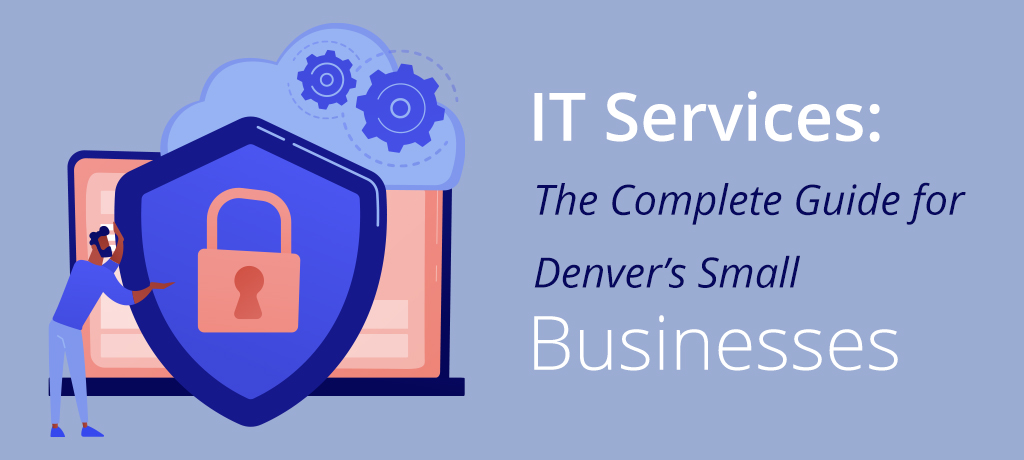 From customer service to digital marketing, technology influences nearly every aspect of a modern business.
Enterprises, regardless of their size, have different manpower needs to maintain their IT systems. For small businesses with tight budgets, the required support is available in the form of professional IT services.
Outsourced IT service providers monitor your organization's IT infrastructure, ensuring that it runs smoothly at all times. They also safeguard your network against system failures and security threats. This is critical to ensuring business continuity and maximizing employee productivity.
With technology accounting for about 10.3% of Colorado's workforce (in 2019), IT services in Denver are quickly becoming a highly sought-after option. Many small businesses are turning to third-party IT services companies to fulfill their tech demands.
Below, we will discuss IT support providers, the major benefits they offer, and how you can choose one for your tech operations.
What Are IT Service Companies?
An IT support company, also known as a managed IT services provider, comprises a team of technology specialists responsible for protecting and managing your IT infrastructure. They are usually well-versed in:
Computer systems (hardware)
Cloud computing
Software applications
Network administration
Cybersecurity
Most outsourced IT support teams go one step further than the traditional break-fix model by offering preventive maintenance, aimed at preserving your network and resolving underlying tech problems.
Furthermore, IT support teams use remote monitoring technology to monitor systems and servers 24/7. These IT professionals identify and remove glitches before they can escalate. This, in turn, minimizes system outages and helps sustain employee uptime.
Let us dive deeper into these two facets of a conventional IT support plan.
Immediate Resolution
You may encounter a sudden network or system problem/failure at any time during your hours of operation. In such a situation, your trusted IT services company will receive a real-time alert and they will act to fix the issue.
The team will analyze the problem and provide an appropriate solution as quickly as possible. Hence, they ensure that business does not suffer even if the system fails for a while.
Preventive Care
Besides addressing technical emergencies, an IT services team also monitors your network round the clock. They help secure your physical and virtual equipment against potential threats, enabling seamless productivity. Some of the most common preventive care services offered by most MSPs include:
Server virtualization
Data backup and recovery
Business continuity
Cloud backup
What Is the Significance of Companies Offering IT Services in Denver?
Denver is quickly developing a fertile tech ecosystem, effectively supported by an overall business-friendly atmosphere. Built in Colorado, a 2019 report from the CBRE, listed Denver as the eighth-best market for tech enthusiasts. Also, in 2020, Denver rose in ranks as the top tech city in North America.
It is easy to see why providers of IT services in Denver are in high demand. With an increasing number of companies fighting for the top spot, you will need to streamline your IT resources in order to gain a competitive edge.
An IT services provider can help you with this. Apart from tending to your existing IT infrastructure, they can also suggest ways for you to improve your network's performance and gain a competitive edge in the market.
Do Small Businesses Need a Managed IT Services Provider?
The short answer is, yes. Staying on top of tech advancements is critical to running a successful business. However, while larger enterprises have the money and manpower to maintain and update their tech network as and when required, small businesses are usually restricted by their budgets.
This is why most small companies often partner with a managed IT services provider. A 2019 study by Clutch concluded that more than one-third of small businesses (37%) outsource their IT requirements to an external company. This is usually done in the interest of saving overhead expenses and seeking dependable IT help without paying exorbitant bills.
Organizations providing IT services in Denver offer contracts that favor small businesses. Simply put, you can choose the level of IT services as per your specific requirements. If you are not completely tech-dependent and only need occasional help, you can opt for a low-cost contract. Once your IT needs increase, you can scale up accordingly.
Here are a few of the services you can choose from:
General day-to-day IT management
Database management
Network security
Data backup and storage
Hardware and software procurement
Network architecture
Virtualization
Depending on your unique business needs, you can choose one or more of these services. Be sure to partner with a tech company that can adapt to your changing IT needs.
How Hiring an IT Services Company Can Benefit Your Small Business 
Here are a few key advantages of outsourcing your tech needs to an IT support company in Denver.
1. Increased Focus on Core Business Processes
Unless you own a tech company yourself, you probably won't be interested in how your hardware or software runs, as long as it serves your purpose.
In that case, an IT company can help you get rid of unnecessary distractions and enable you to concentrate on your core business offerings.
This is also applicable if your IT needs are taking up most of your time. Under such circumstances, it is probably in your best interest to hire a team of IT pros who can take care of your tech, while you focus on increasing your revenue.
2. 24/7 Support
Since security breaches and cyberattacks can happen at any time, businesses need to be vigilant and constantly available to combat a potential emergency. This may be burdensome for your internal IT team.
A third-party IT services team, on the other hand, is usually available round the clock, seven days a week. They can counter the security threat before it infiltrates your network and causes serious damage.
Companies often have to pay a heavy price for prolonged network downtime. A study commissioned by BMC Software and conducted by Forrester Research revealed that most Fortune 100 companies suffer productivity losses worth more than $100 billion annually due to routine IT problems.
An IT services company will equip you with a team of specialists focused on mending server errors and network issues. They will work to resolve the problem as quickly as possible, ensuring that you lose little to none of your work time.
3. Help with Big Data
Big data can help you increase sales, create more dynamic marketing campaigns, and understand your consumer base better. However, managing and scouring through large volumes of data can be overwhelming and time-consuming.
This is where an IT company steps in. They browse through the data and reference your internal information against myriad external platforms. Doing this helps them identify the gaps in your sales and marketing efforts. In other words, they can use this information to suggest effective updates for your business processes.
4. Improved Cybersecurity
A lot of small business owners believe that their company is too humble to be targeted by cybercriminals. As a result, they are callous in following network security protocols.
The scary fact is, small to mid-sized businesses are often more prone to cyberattacks and security breaches. Here are the most common cyber threats faced by small businesses:
Phishing attacks
Malware attacks
Ransomware
Insider threats
Denial of Service (DoS) attacks
To safeguard your IT ecosystem, you should hire an IT services company that provides optimal internet security. With a team of cybersecurity specialists in your corner, you will be able to better protect your organization against devastating cybercrimes.
An IT company can also train your employees in identifying network security threats. Employees can implement this knowledge to protect their systems and report a threat even before its outbreak.
5. Cost Savings
Hiring an in-house IT team is often expensive. Each member of your IT staff is a part of your payroll. Apart from paying salaries, you will have to spend on overtime pay, 401(k) plans, paid holidays, and conveyance fares, among other things. If you are starting out on a shoestring budget, this can use up a large chunk of your limited capital.
Moreover, you will have to cover the costs of any necessary IT replacements or repairs. Considering how expensive tech fixes can get, this can easily send your IT costs soaring through the roof.
With an IT services company, you will only have to pay a flat fee either monthly or annually. Also, they generally take responsibility for performing all repairs and replacements, thus saving you from further financial liabilities.
Things to Consider before Hiring Managed IT Services in Denver
With Denver's growing tech industry offering an increasing number of options, selecting a suitable MSP for your small business may overwhelm you. Fortunately, you can decide on the right IT services provider by evaluating the following key criteria.
Does the Company Have Experience in Your Industry?
The type of technology used by your IT services provider will depend on the industry they cater to. This also applies to best practices and industry standards. You will need to ensure that the prospective IT services provider is familiar with the common issues faced by and relevant resolutions applicable to your industry.
Has the Company Been around Long Enough?
As a small business owner, you should look for a dependable IT company that covers the basics, including network security and administration, software and hardware updates, and setups. For this, a local and experienced tech company with significant practical experience may be your best shot.
Does the Company Support Your Business's Growth?
It is best to work with an IT services provider that scales up its services as your business grows. Be sure to choose a provider that has the manpower and the technological means to satisfy your IT needs in the future.
Does the Company Have a Proven Track Record?
You should verify the IT provider's credibility by asking for a list of their previous and existing clients. This should tell you a lot about their industry experience and reputation.
Does the Company's Fee Structure Suit Your Budget?
Most IT services companies have two different types of fee structures: a flat fee model and a pay-as-you-go plan.
Before making your choice, analyze your IT needs carefully. If you are a niche company that requires a significant amount of IT support on a day-to-day basis, you may benefit from using the flat-fee model.
However, if your business needs a small amount of IT to support, chances are that you will not be able to exhaust your flat-fee support package. The pay-as-you-go payment scheme may, therefore, be more appropriate for you.
Conclusion
Regardless of the type of your business, you may want to outsource your IT operations to a professional third-party tech company. This step will enable you to enjoy the benefits of hands-on IT support and services at a reasonable price.
Further, once you have a dedicated service provider catering to your IT needs, you will be able to concentrate on developing efficient expansion strategies to grow your business.
Are you wondering if your small business in Denver needs the help of a competent IT services team? We can clear a few of your doubts. Call us today to know more!