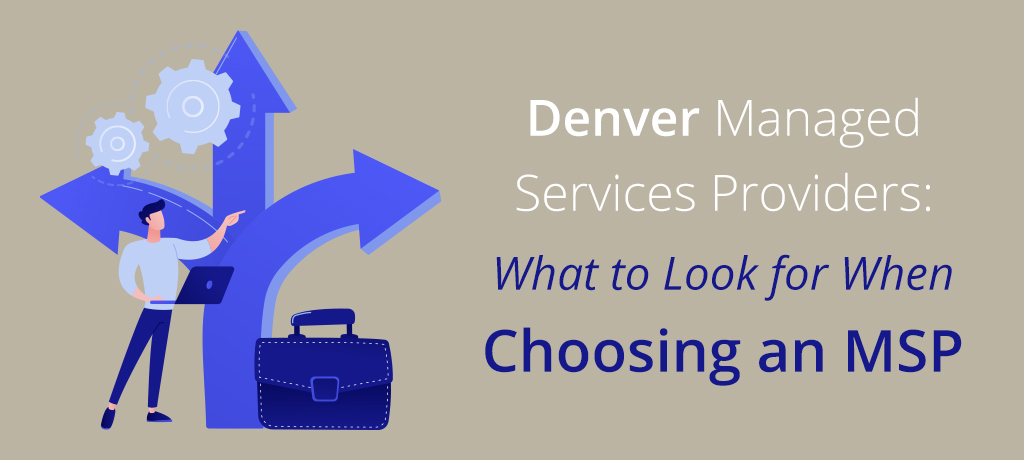 For new entrepreneurs, Denver is fast becoming an affordable alternative to Silicon Valley. The city now ranks 24th among the top 25 startup ecosystems in the world.
Denver startups have been thriving due to the wide availability of talent and resources. Further, the government here offers several grants and tax incentives to ensure easy credit availability and subsidized relocation costs.
Considering the city's competitive business scenario, it has become essential for organizations to leave no stone unturned in staying ahead of the herd.
The right IT support company can help your business leverage advanced technology and skills, so you can innovate and gain a competitive edge.  Moreover, they can help you optimize your business IT infrastructure while ensuring its efficiency and security.
It's no wonder the market for managed services providers (MSPs) is continually growing! As per Statista, the global managed services market is all set to grow to over 350 billion US dollars by 2025 from 200 billion US dollars in 2020.
Choosing an managed service provider is a very important decision. In this post, we want to go over how to do it right.
Managed Services Providers: What Role Do They Play?
The key role of a managed services provider is to strengthen their client's overall business IT infrastructure and fortify its security. Their team is equipped with the technology and skills that keep business IT ecosystems operating at full capacity and protected from cybersecurity threats.
Further, managed services providers work as strategic partners and help businesses execute, automate, and scale their IT infrastructure. This, in turn, enables internal IT teams to focus on tasks that help the business remain competitive in a digital economy. Managed service providers provide all these services for a fixed monthly or annual fee.
Why Your Business Needs Managed Services?
A tight budget, limited workforce, and frequent technological breakdowns can stall the growth of any business. Yours is no probably exception! Managed services providers can mitigate these issues and help you stay on track.
Here's how your business can benefit from a managed services provider Denver .
Maximize Business Uptime
In 2019, Facebook suffered a 14-hour downtime, resulting in an estimated 89.6 million U.S dollars in lost revenue.
Unexpected downtime, resulting from the failure of your IT infrastructure, can have devastating effects on your business. These may include financial losses and lowered productivity, among others.
A managed services provider helps improve uptime by integrating proactive monitoring and threat detection systems in your IT setup. They use these tools to keep a watchful eye on your IT infrastructure and take preventive action to minimize the possibilities of technical glitches that can lead to downtime.
In case of a hardware breakdown, managed services providers repair/replace the affected part of the entire device, as required, at the earliest. This ensures that you can resume operations with minimal delay.
Improve Cybersecurity Defenses
According to a study, fifty percent of small and medium-sized organizations have been victims of cyberattacks. Of these, over sixty percent typically "go out of business."
The simple fact is that all businesses are susceptible to cyber threats, including yours. If your internal IT team isn't equipped with the advanced tools needed to counter modern-day cybersecurity risks, you could be ruined.
A managed services provider, however, deploys the latest versions of antivirus software and firewalls to mitigate these threats. They also assign a dedicated IT team to provide the 360-degree protection of your IT systems.
Moreover, they integrate intrusion detection and prevention systems, incident management protocols, as well as identity-based access solutions to further secure your business environment.
Managed services providers typically implement a combination of proactive and reactive cybersecurity measures. Proactive threat monitoring allows them to anticipate and mitigate risks before they can arise. The process involves analyzing existing security parameters, detecting loopholes, and preventing their exploitation.
Even if a threat does make it into the network, reactive security measures help identify and mitigate it in the early stages, thereby minimizing damage.
Get Robust Data Backup and Recovery Solutions
It's no secret that data loss severely impacts business productivity. Organizations can lose critical business data due to human errors, equipment failures, or natural disasters, bringing their operations to a standstill.
Managed services providers help maintain business continuity despite a data breach by securely backing up and storing copies of your information in multiple locations. They also ensure that the data is accessible only to authorized users.
Manage IT Infrastructure
When your business grows, it becomes essential to upgrade your software and hardware applications to accommodate the increasing demand.
Managed services providers maintain your IT infrastructure by routinely equipping it with the latest technologies and competencies. This goes a long way in keeping your networks and systems functional and conducive to further business growth.
Assistance with Vendor Management
Managed service providers undertake the responsibility of managing technology vendors on your behalf. They help businesses procure the latest and the most suitable technologies from authentic vendors at the best prices.
How to Choose the Right Managed Services Providers in Denver?
Only the right managed services provider enables organizations to focus on their core competencies, rather than deal with cumbersome technological challenges. While you will be spoilt for choices in a city like Denver, you should pick your IT support provider with great care.
If you've decided to partner with a Denver managed services provider, here are some crucial factors you should consider.
1. 24/7/365 Vigilance
The managed services provider you choose should be able to ensure proactive and round-the-clock vigilance of your IT infrastructure. They need to be equipped with the most advanced remote monitoring systems so that they can detect and address issues before they result in downtime.
In simple words, your managed services provider should know how to deploy the most suitable monitoring tools to keep your overall IT ecosystem up and running at peak efficiency.
2. Expertise and Experience
Reliable managed services providers go beyond the traditional break-fix model and provide hands-on support to a business's IT infrastructure. Their expertise helps organizations overcome technological challenges and perform tasks more efficiently at lower costs.
Managed services providers leverage their experience in determining what works and what doesn't across industries and support business owners accordingly in their digital transformation endeavors. It is, therefore, essential that you hire a skilled team with significant industry experience.
As a rule of thumb, you always want to inquire about the managed services provider's prior experience and their proficiency in dealing with industry-specific IT issues. You may also ask about the training and certification programs their team members have completed to further gauge their know-how.
3. Transparency in Agreements 
A managed services provider must maintain complete transparency in the terms and conditions of their services.
Usually, managed services providers create a service level agreement (SLA) to confirm details about each of their services and the associated fees. This document gives businesses a clear idea of the implications of working with their chosen managed services provider. The agreement also mentions who will be held responsible in case of any issue or breach of the terms.
You should ensure that your SLA mentions all these factors as well as the precise level of performance you can expect from the managed services provider. Details about the frequency and methodology of measuring performance must also be clearly stated.
Before signing the contract, make it a point to go through the SLA in detail and ask the managed services provider's representative to explain the terms and conditions, if necessary.
4. Prompt Response 
Your managed services provider not only needs to be available round the clock, they also need to provide prompt responses to queries and tickets. To do so successfully, they should be equipped with remote support systems and monitoring tools.
You must ensure that the managed services provider you're considering can free up your in-house IT team from performing routine and mundane tasks, allowing them to focus on the more strategic aspects of their job.
Before you finalize a managed services provider, make sure to ask about their average response time and have it incorporated in the SLA.
5. Dedicated Helpdesk
Setting up and maintaining an internal IT helpdesk team may not be feasible for small and medium-sized businesses. Outsourcing this task to an managed services provider can prove to be a better option in terms of costs as well as providing competent help.
The managed services provider you choose should know how to set up helpdesks dedicated to troubleshooting IT issues round-the-clock.
Their helpdesks are typically manned by experienced IT professionals, who are proficient in addressing user queries and sorting product issues. They also play an integral role in improving customer satisfaction.
6. Data Backup and Recovery Strategy
As mentioned, businesses may lose critical business data unexpectedly due to various reasons. You should, therefore, ensure that your managed services provider can implement a robust data backup and recovery plan, as well as safeguard your information.
Their team should be adept at storing data in different locations by implementing onsite, offsite, and cloud storage solutions. The data must be secured with encryption software and multi-factor authentication tools so it is accessible only by authorized team members.
7. Track Record
Managed services provider that deliver the desired results tend to enjoy a good market reputation. So, it's essential that you do your due diligence on your prospective managed services provider before signing the contract.
You may ask the managed services provider for references of current and previous clients and speak to each one to determine if the provider is indeed as skilled as they say.
You can also read customer reviews on Google and third-party websites to gauge the managed services provider's abilities. Further, check their website, social media accounts, and online IT forums to find out what people are saying about their services and solutions.
Conclusion
With Denver's startup ecosystem becoming increasingly competitive, businesses are striving hard to gain an edge over their competitors. A managed services provider can help facilitate efficiency and productivity, allowing your business to remain competitive. Additionally, they can help you overcome IT challenges and dedicate skilled resources to your core business operations.
Denver offers a plethora of options when it comes to managed services providers, but you must hire the one that best suits your needs. The above considerations will help you narrow down your choices and select the most suitable Denver managed services provider.
If your Denver business needs proactive IT support or if you need specialized skills and resources for fixing frequent technical issues, feel free to consult with us.