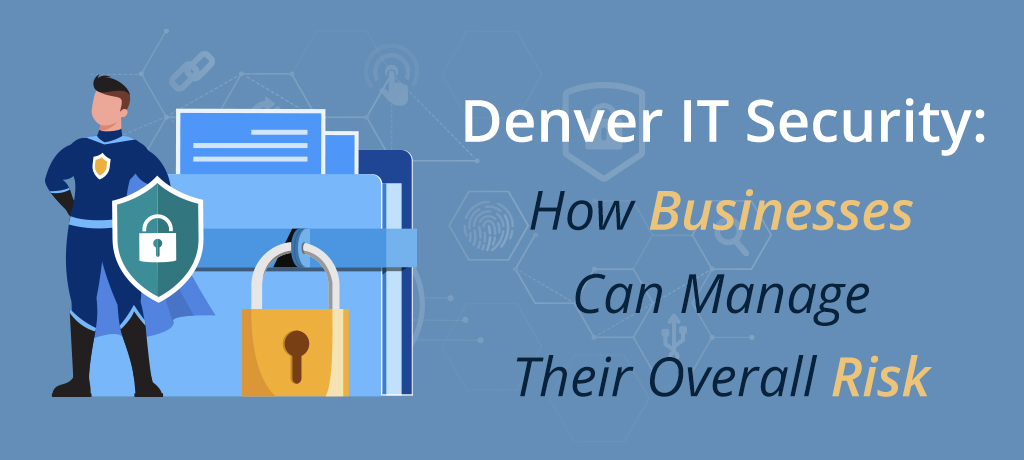 Most modern businesses rely on information technology (IT) to improve their internal workflows and keep up with the competition. Technology makes pretty much any essential business task simpler, from marketing and processing orders to managing client data.
However, keeping technology safe from digital threats isn't easy. Businesses of all sizes and industries are vulnerable to security breaches – especially when they fail to prioritize IT risk management.
Businesses that do not focus on IT security can find themselves in costly situations after an IT disruption or cyberattack.
This is where an outsourced IT company can help.
An outsourced IT company provides businesses with remote IT technicians who support their IT infrastructure, defend against security threats, and resolve technical issues. A quality IT company will monitor and maintain IT security for a business around the clock, 24/7
Do you need a little help managing your Denver IT security for your business? Here is everything you need to know about minimizing your overall risk – with or without the help of a third-party provider.
What is IT Security?
Before you can understand how to manage IT risk, you must understand the true importance of IT security.
IT security protects business networks, servers, systems, and network derives from cyber threats and disruptions. Proper IT security services and defenses allow business owners and their employees to focus on their goals – instead of worrying about looming outside threats and IT disruptions.
The importance of proper IT security cannot be understated. Cyberattacks are incredibly damaging and expensive to businesses. Just one attack can cost your business an average of $25,000 in reparation costs. This is well beyond what most small to medium-sized businesses can afford on a whim.
Many small to medium-sized businesses in Denver could benefit from a little extra security. Denver, which was ranked as one of the best cities to start a business in the United States in 2021, plays host to plenty of up-and-coming companies. These new businesses need to understand the importance of managing their IT security to reduce the chances of a disaster.
Even if your business can financially recover from a cyberattack or data breach, you may still have to face the possibility of a damaged reputation. If a cybercriminal gains access to private consumer information, it can be challenging to maintain community trust.
Do not let your business get caught in this situation. For growing businesses in the Mile High City, it's time to start prioritizing Denver IT security.
How Can You Keep Your Business IT Protected?
Now that you have a better understanding of what IT security is and why it is essential, let's discuss how to manage your overall risk.
As mentioned earlier, one great way to protect your business and lower your risk is to partner with an outsourced IT support company. Even if you only plan on tackling IT security internally, there are still changes you can make to stay safe.
Here are five things you can do to minimize the chances of experiencing a cyberattack or dangerous IT disruption.
1) Proper Employee Training
Human error contributes to 95 percent of all IT breaches in the United States. If your employees do not know how to protect themselves online, they can mistakenly jeopardize your entire company's safety.
Employees can open the door to cybercriminals when they accidentally click sketchy links, store private data in unsafe places, or create weak passwords. The good news is that proper employee training can reduce employee mistakes that lead to data breaches and cyberattacks.
Start by incorporating mandatory cybersecurity training for all employees. Explain the dangers of online threats, and more importantly, talk about how to avoid them. A managed services provider expert will be able to manage this for you.
2) Multifactor Identification
Another way to reduce the chance of a cyberattack is to implement multifactor identification steps to any business programs that require passwords. Multifactor identification requires users to provide two or more pieces of evidence to prove they are authorized to enter. A simple password isn't enough – you need to know that only authorized users are accessing valuable data and software.
3) Firewall Protection
Another way a Denver IT security provider can help your business is by installing firewall software programs. Firewall software helps restrict unauthorized access to your business network. It can also block your internal employees from entering dangerous websites that could lead to potential attacks.
4) Software Updates
Keeping your software up-to-date can reduce the chances of outside threats and minimize disruptions. Software updates fix errors, bugs, and other issues that can slow your technology down and invite cybercriminals into your network.
5)   Data Backups
Lastly, you should ensure that your private business data gets backed up to an off-site server or cloud service.
If you store your data in one location, a data breach or natural threat can rob you of your access. An off-site data backup will help you recover your data if something happens to your primary server, whether it be a criminal act or a natural disaster, like an earthquake or flood.
Keeping your business technology safe isn't easy to do all on your own. An IT company can remove the stress of IT maintenance from your day-to-day life, but that's not all they can do.
Here are a few ways an IT company will benefit your business and improve IT security. 
Advanced Network Security
A quality IT security provider will provide your business with advanced, multi-level network security. They essentially set up multiple walls of the latest and greatest protection, making it difficult for cybercriminals to enter your network. An IT company will also monitor your network and make frequent updates.
24/7 Support
If your business experiences a system failure or cyberattack, you'll need security solutions right away. When IT issues are left unaddressed for long periods of time, they can result in lost sales or expensive recovery processes.
A Denver IT security company that offers 24/7 support will grant you access to experienced IT technicians who can help you resolve issues whenever you need them – even on weekends and holidays.
Access to New Technology
It can be challenging to keep up with ever-evolving tools and technology all on your own. However, if your business uses out-of-date technology, you're likely not as protected from modern threats as you could be with a better setup.
With the help of a reputable Denver IT security company, you can access advanced and secure technology that meets your business needs for affordable prices.
Tips For Finding the Right Denver IT Security Company
Now that you know how a Denver IT security provider can help you, let's discuss tips on finding the best security provider for your business.
Find a Partner with Experience in YOUR Industry
Denver IT security services shouldn't be the same for all businesses – technology needs vary by industry. It's in your best interest to partner with a provider with experience in your specific field.
Although any IT provider can learn your industry's standards and regulations, some fields require specific data and security certifications. A provider with the appropriate industry knowledge and certifications will be able to better support your IT security with expert solutions.
Another thing to keep in mind: you can often receive better IT security from local providers than national or global ones.
IT providers in your area will have more experience supporting Denver IT security needs and working with prevalent local industries, such as healthcare, telecommunications, and financial services.
The bottom line is that if you're running a small Colorado business, we highly recommend turning to a security provider that lives and works in your own backyard.
Look at Their Reviews and Testimonials
One way to tell if a Denver IT company offers reliable IT security services is to examine their reviews and testimonials.
Past clients' experiences will give you an understanding of how the company will support your business security initiatives. Quality IT providers should have nothing to hide – they will have their reviews and testimonials displayed on their website for potential clients to see.
It's hard to please everyone, but if most reviews and testimonials are positive, there's a good chance that the company will provide valuable support and meaningfully improve your business's IT security.
Try to Find a Provider That Operates Under a Proactive Approach
Security, more than any other IT service, requires preparation and planning.
Your business will benefit from outsourced IT security that prevents technology issues and online attacks from occurring, rather than simply resolving the problems as they arise.
Denver IT security providers that take a proactive approach will take the time to make necessary network changes at the first sign of trouble. They will also examine your business infrastructure needs and recommend tools that will keep you safe from the get-go.
In Conclusion
Denver businesses are in a fantastic environment to grow and prosper. As one of the country's most desirable cities, there are opportunities at just about every turn. But these opportunities do not come without a degree of risk – especially when it comes to IT.
We hope this post gave you a better understanding of the importance of IT security and how an outsourced IT company can help your Denver business manage its risk.
How will your business in Denver benefit from IT security services, specifically? Let's find out together.